Pat Klopfenstein Library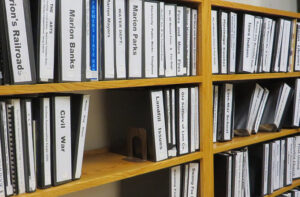 Explore our reference library about Marion history. The collection includes an extensive archive researched and compiled by Pat Klopfenstein.  In addition, there are many newspapers, books and maps donated by the Marion Public Library, plus additional materials, photos and artifacts received through personal donations.
If you have specific questions about Marion history, genealogy or photo searches, a staff member or volunteer may be able to assist you. This service is free to Marion Historical Society members. Others are requested to provide a donation or become a member.
For in-person browsing, please call for an appointment.
Items cannot be checked out from the library. Staff can make photocopies for $0.10 per black and white page, or $0.50 per color page.