Civil War Re-Enactment Program
Sunday, November 13 at 1:30 p.m.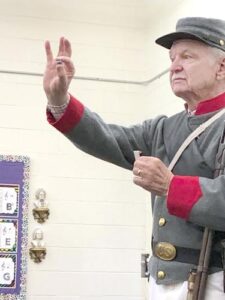 The Marion Heritage Center & Museum is pleased to welcome American History re-enactor Barry Grove for our first program of the "Worth Their Medal" exhibit. Admission is free. 
Grove will portray a Confederate soldier and the life he would have led. His topics include uniforms, music, diet, battlefield tactics, personal effects (toothbrush, razor, pipe, money), weapons and medical treatments/equipment. The audience is asked to participate in some of the presentation. Grove demonstrates how to load the muzzle of a musket like those used during the Civil War.
The man Grove depicts was born in 1843 in Covington, Kentucky. While the state did not officially secede from the United States, several regiments were mustered for the Confederate States of America. In 1863, at 20 years old, Baker enlisted in Covington's Company G, Eighth Kentucky infantry. After the war, he and his family made their way to Marion in 1891. Baker was employed at the Milwaukee roundhouse. He died in 1931, at the age of 88, and is buried in Oak Shade Cemetery. 
A retired school administrator, Grove, 75, has enjoyed educating students as a re-enactor throughout Eastern Iowa for nearly 30 years. "I try to bring history to life by donning my costume(s) and using my props," Grove said. "I think it helps enrich the textbook stuff." 
Grove will return to the Marion Heritage Center & Museum on Sunday, March 12, at 1:30 pm, as British colonist Jonas Parker, Jr., living in 1760.